The Authentic Taste Of Saigon
on

29 Dec, 2015
In Food Blog, Travel Blog, Uncategorized
Just imagine going to a whole different country, meeting the young and dynamic local people that are willing to take you to explore the best traditional food that you will never find on the Internet. What can possibly be more fun? 😉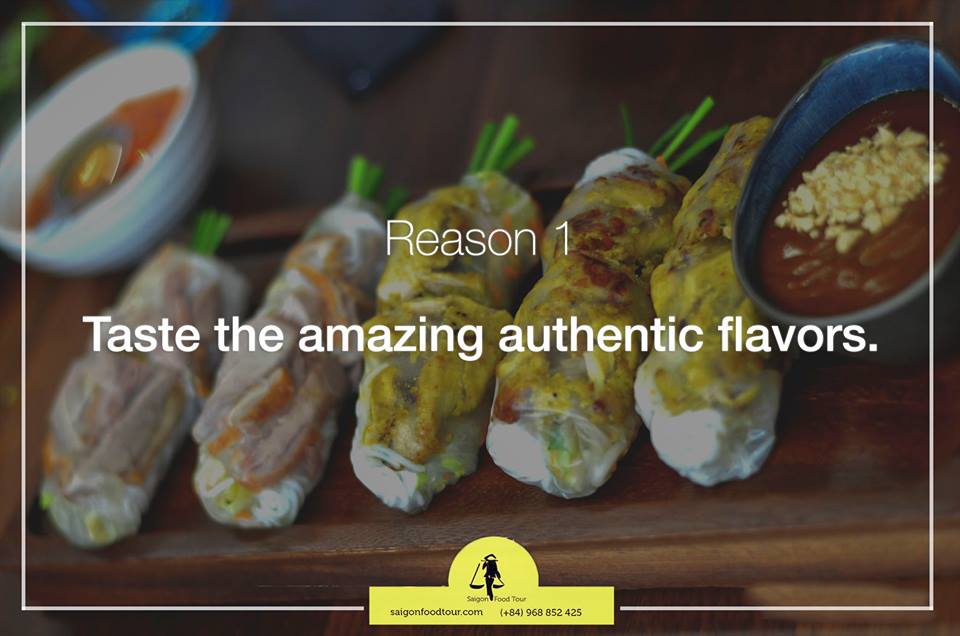 Riding scooters, Eating vendors
6.45am, Tran Thi Thu Hong (senior at Foreign Trade University) fleed away from home on her bike. But she was not going to school. In fact, she was going to a hostel located on Bui Vien street, the backpackers' town, to pick up a customer from the Phillippines, Ms. Nina Santra Clemente. After all the ice breaking, Nina put on a helmet, joined Hong on her bike and they blended in the crowd of Saigon.
Their first stop was a small old Banh Mi shop on Cao Thang street, district 3. Hong guided Nina to the wooden tables and stools on the sidewalk. They sat there, enjoying their breakfast, talking about the heat, the people, the people and the way of life of Saigon, surrounded with the local workers, students and the sound of parents pressing their kids to finish the breakfast before school started.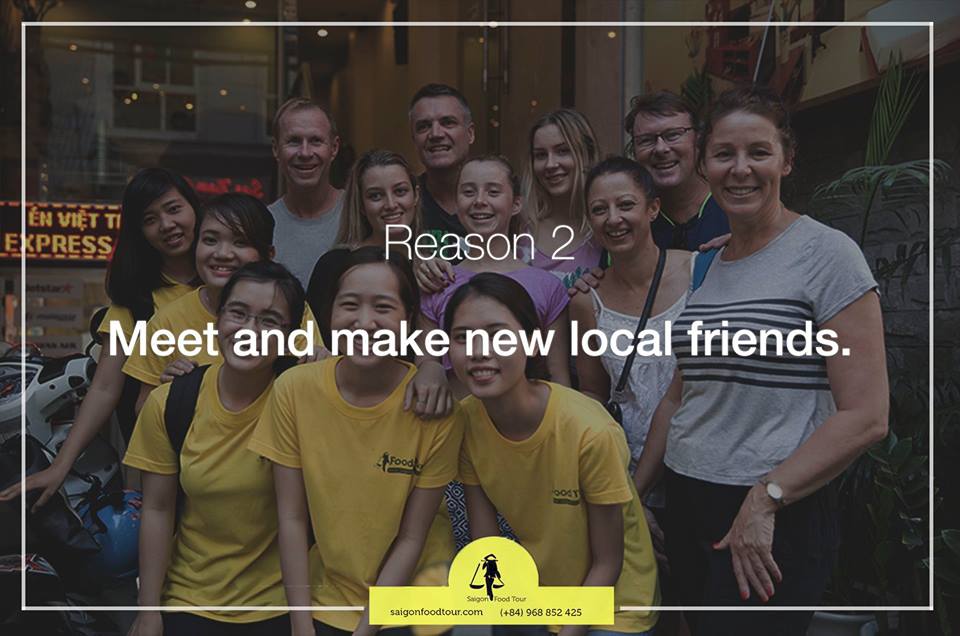 After filling their stomaches, they headed to Xom Chieu market. The two found their way to the market, seeing all the tropical fruit from Southern Vietnam. Nina was bewildered seeing banana blossoms, sesbania, the living frogs and the catfish swimming in a small tub. They stopped by and shopped as many fruit as they possibly could : barbados cherries, jackfruit, citrus, etc.
With full plastic bags in hand, the girls walked around, chatting about everything. After Xom Chieu market, Hong took Nina out for Viet coffee, steamed rice rolls, sweet soup. 'I totally forget that I'm traveling. It just feels like I've been hanging around with a close friend of mine", said Nina.
Experiencing the cozy and friendly Saigon
According to the young and friendly tour guides, the criteria to pick out the restaurants are : friendly atmosphere and not as crowded, hygenic, high quality food and ingredients, etc. At the Banh Xeo restaurant, tourists can choose to make their own Banh Xeo.
Emily, a tourist from Europe, wrote a letter to the food tour team after the tour. "These dishes are beyond amazing and I never got to try before. You guys are so friendly, professional and such safe drivers. The traffic in this city is crazy but thanks to you, I felt so safe. Going on this tour enlightens me so many things about this beautiful city", quoted from Emily's letter.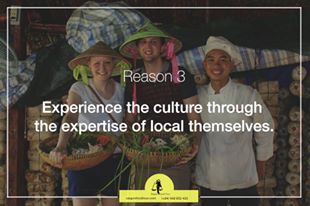 Tran Thi Thu Hong smiled and told us :"We sometimes have babies and children on tour. After many hours together, the kids bursted out crying as their parents said we had to say goodbye. Each time something like that happens, I feel so happy for being able to contribute to building a friendly and beautiful image of Saigon for tourists"
A different look into the fancy Saigon
Mr. Tran Hoang Anh, who is in charge of Saigon Food Tour and is also the CEO of Footsteps Indochina company, said :"I had the idea of creating a food tour presenting tourists about the local food for alomost two years now". According to Hoang Anh, the ordinary concept of a group of tourists being guided by professional tour guides to fancy restaurants which are lack of the real culture, the authenticity never interested him.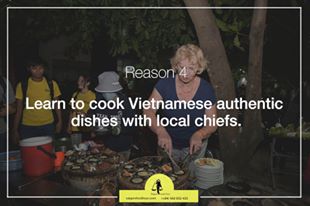 "I want to create a cozy atmosphere like a family, a group of close friends chit chatting for my tourists", said Hoang Anh. From that very first idea, Hoang Anh recruited young and friendly tour guides. "People always want their employers to be experienced and professional to avoid the risks. But I've been through the student phase and I know the opportunities for these young people are not many. And I decided to have these college students work with me on this project".
Initially, the company had only a small group. Until now, there are more than 40 tour guides from many universities and colleges in the city. Before going on tour, they had to be trained about culture, history, food, etc. and rules of driving safely.
When going on tour, the no 1 rule is one customer – one driver. Many a times when the group encounter a traffic jam, while the tour guide are worried, the customers yelled with joy and excitement and jumped off the bike to take photos.
"After occurences like that, we discovered that the tourists want to experience and explore the original Saigon the way it is. That's why wew do not take our customers to Ben Thanh Market anymore, we guide them to small wet markets and local markets in small city corners", said Hoang Anh.
Translated from
http://dulich.tuoitre.vn/tin/20151220/thuong-thuc-mon-an-binh-dan-sai-gon/1024063.html
By Tran Khanh An