Food on Wheels – Saigon street food
on

10 Mar, 2016
In Food Blog, Travel Blog, Uncategorized
When in Saigon one may very likely to find a food cart on the street, apart from a numerous amount of street food stores and small restaurants. It is like the typical image of this beautiful and thriving city. Food on carts vary, from tropical fruit to the worldwide-famous Banh Mi and many other dishes. Here in this entry, we will take you on a tour in which we will show you all the best of Saigon street food carts.
There are many sizes and types of food carts, depends on the dish they serve. However, if you are really interested in food carts, you need to get yourself out of the central area of Saigon – district 1, where it is very unlikely to encounter a typical food cart (Well, there actually are some Banh Mi carts, but not as plentiful). Just take a few good hours to wander around and you will see a lot of food carts that serve you the most authentic and delectable dishes with an unreasonably affordable price.
The most common dish you may find on these wheels is:
Bánh Mì (Vietnamese stuffed baguettes)
Needless to say, Banh Mi is no longer something very new as it is gaining worldwide fame. One can easily find a Banh Mi in London, Sydney or even LA. However, the most authentic Banh Mi is only available in its motherland, Vietnam, especially Saigon (Ho Chi Minh city).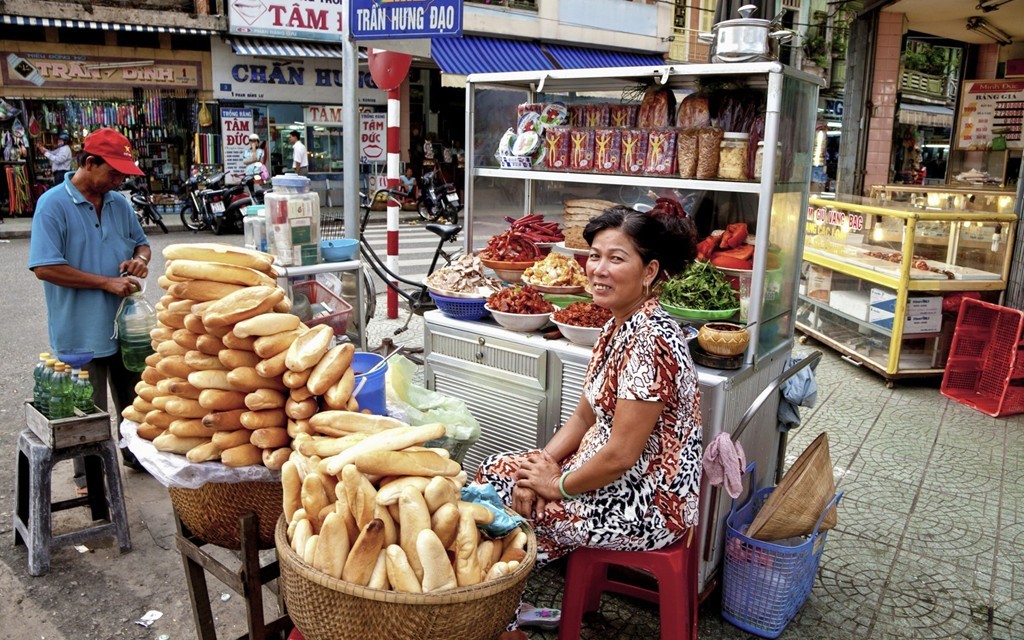 You can find Banh Mi everywhere, in fancy restaurants or local shops. But they are mostly sold on food carts. Some food cart owners manage to rent a spot where they can do their business and don't have to move around with the carts. These are the local and the original Banh Mi, with lots of butter, paté, hams, sausages, pickles and veggies. Apart from those, there are also food carts that move, these are mostly Banh Mi with chargrilled minced pork and fried egg, which are extremely cheap and delicious.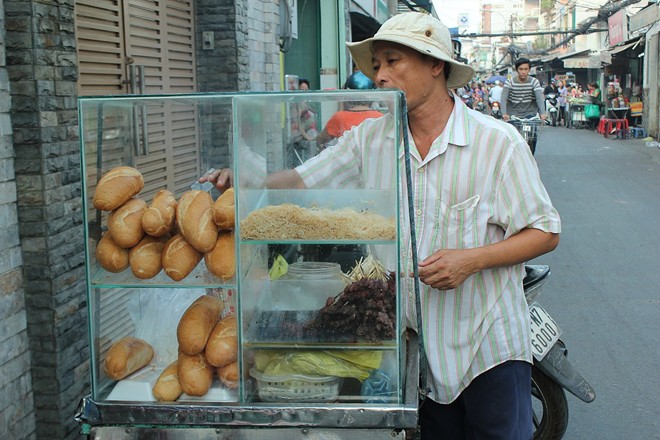 In recent years, there has been an ongoing trend that many food carts are selling Banh Mi with fried fish sausage. These are very simple and light. Mostly picked up for breakfasts.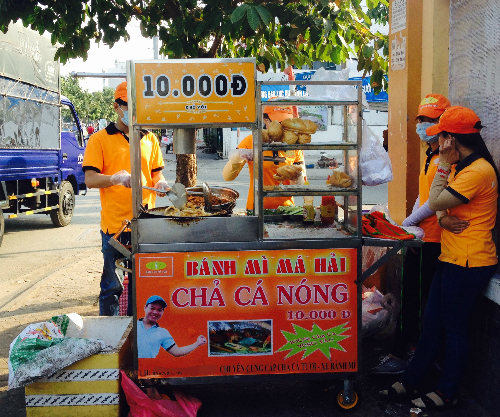 Noodles and Porridge.
Talking about noodles, Vietnam food holds a wide range of noodles (We already had an entry on this topic, come take a look) and all of these babies can be found on food carts. Sometimes it is almost unbelievable seeing how many things are stuffed on an old cart. From the noodle, the broth, the water to cook noodle, and a dozen of small containers of seasoning. But, well, the owners always manage to carry through.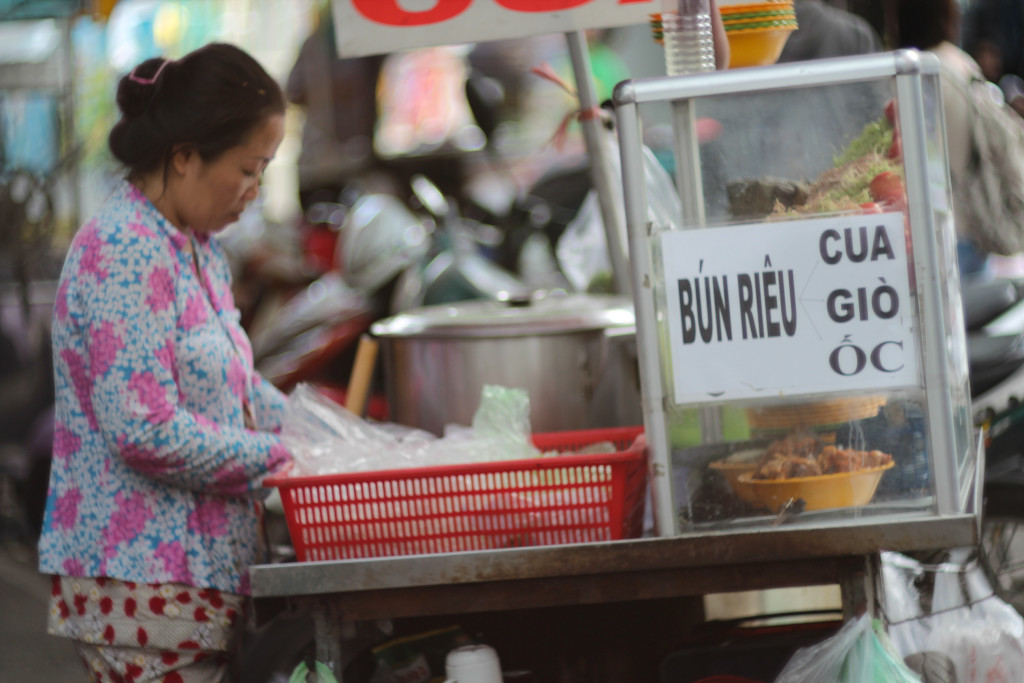 If a decent bowl of a particular kind of noodle cost you 30.000VND in local stores, it would only cost you half the price on these carts. And the owners still manage to deliver to us very tasty noodle with such a low budget.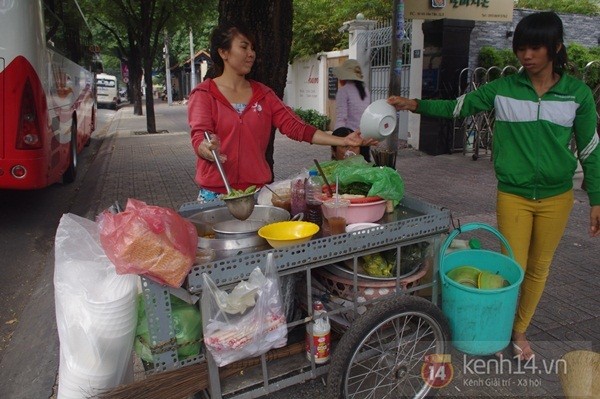 Tropical fruit
Vietnam food has always been so popular for fruit, especially tropical fruit. And if you are lazy, here are some good news for you. Fruits are sold on carts which are easily encountered on the street. There are 2 main types of fruit carts.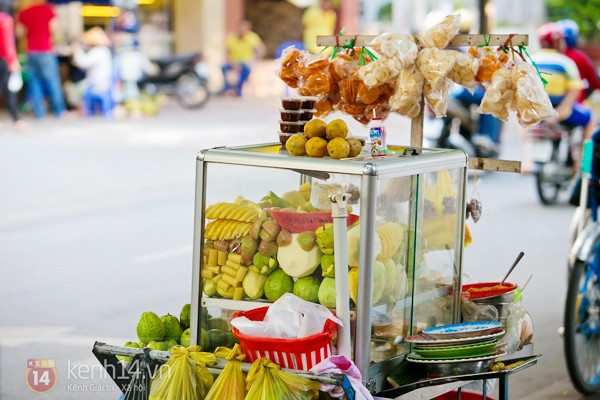 This type of fruit cart usually sells just 1 or 3 at most kinds of fruit and they cycle around. These carts are mostly favored by moms because they are convenient, fresh and affordable.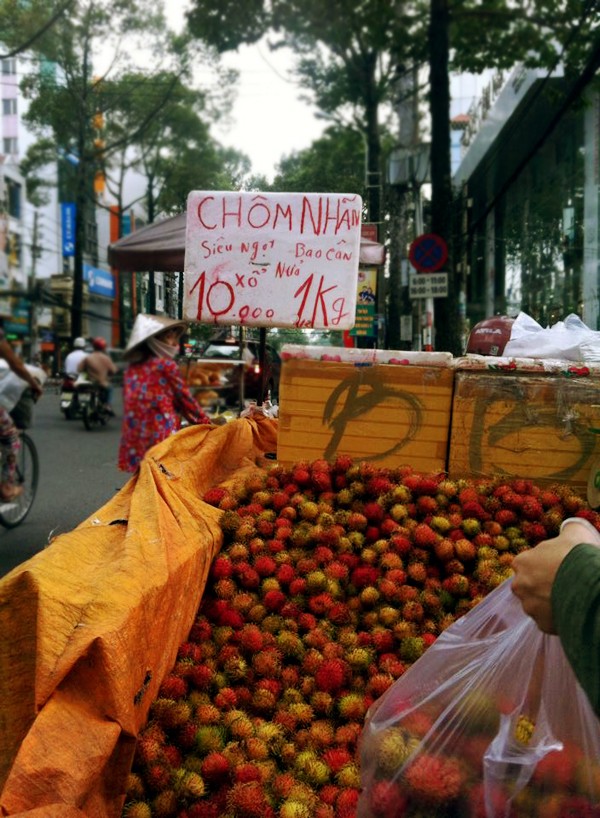 This second type of fruit cart is famous for kids and foodies. There are about 10 types of fruit that are beautifully displayed. All of them are cooled and prepared to eat. The seller usually gives you fermented fish sauce and shrimp salt to eat with sour fruits such as mango, guava, etc. Fruits sold on these carts generally cost more than those sold on the first type. Just ask a random Vietnamese, I bet their childhood memories always have something to do with this type of fruit cart.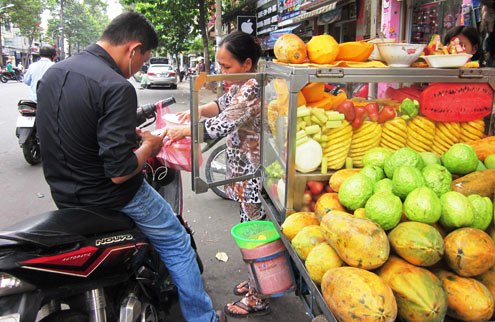 Bánh tráng trộn (Rice paper salad) and Bánh tráng nướng (Grilled rice paper)
Rice paper is a traditional thing for locals. But rice paper salad and grilled rice paper are two popular dishes for young people.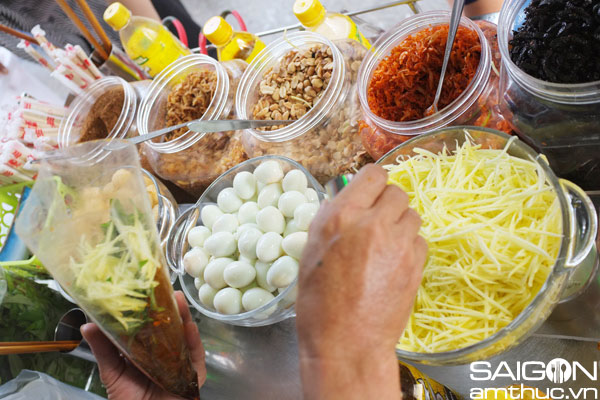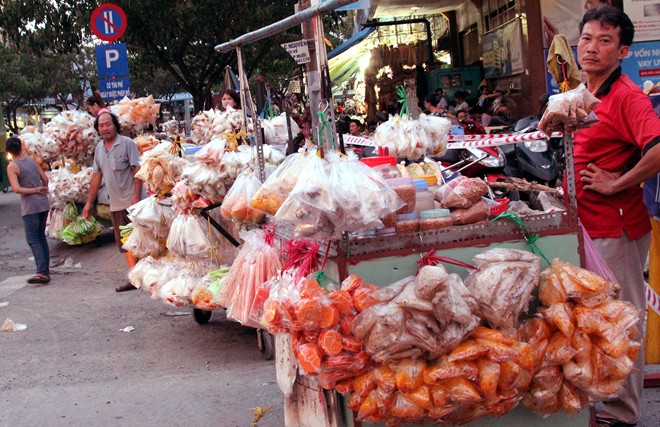 Rice paper salad is the king of Vietnamese junk food. Everybody goes crazy for it. It is rice paper cut into small equal pieces, with peanut oil, shrimp, meat, hot mint, etc. The whole combo makes an irresistible treat and of course, super heathy.  Bag of rice paper salad would cost you from 10.000-20.000 and trust us, it is worth every penny.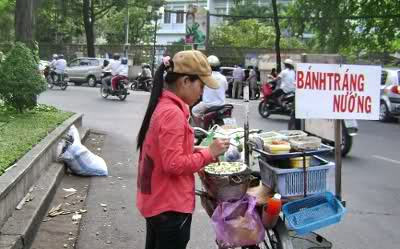 The grilled rice paper is also called "Vietnamese pizza" and yes it really looks like a mini pizza with many ingredients combined from the green stuffs to pork and shrimp. And a "pizza" will cost you from 5000-15000VND. SUPER cheap for such a tasty treat.
Fried sticky rice cake
This dish used to be popular back in the 2000s, but as people are eating healthier, fried sticky rice cake is losing its dominance in the market. However, you can still find some carts that sell this cake. Sticky rice cakes are cut into small square pieces and deep fried, eaten with hot sauce. A piece of this cake would normally cost you 5000VND, which is a good price for such a tasty (and greasy) snack.
To taste more of Saigon street food, check out
our website for an amazing food tour experience.