SAIGON FOOD FESTIVAL 2015 – TASTE OF THE WORLD
on

21 Sep, 2015
In Travel Blog
So I finally find a Food Heaven on Earth, which people called Saigon Food Festival. That's a interesting story and now I happily share with you about it.
Throw back to last weekend, on September 13th, 2015; when I just accidentally passed across 23/9 park in District 1 on the way back to my home. Suddenly I was pulled back by a lure smell and I decided to follow it then there I was, in Saigon Food Festival where the gastronomy from other countries like Malay, Korea, Indonesia, Netherlands, Thai … and of course, Vietnam, was exposed.
At first, I thought it was a small food fair, but then I was  wrong. It's a festival since people came there to intoduce their cuisine, their food rather than simply just sell it.  It's like a exchange culinary, the friendly introduction from countries on the world.
One thing I like about this festival is that it didn't charge entrance tickets, therefore; you can easily access in the Saigon Food festival. If you want to try the food you must pay a little bit money but it's much more cheaper than in local stores or restaurants. In addition, the food here is really diverse and it's cooked almost by native chef. Therefore, you can get the very authentic and traditional tastes without flying to each country to discover it.
The event this year included many activities, I think. Each representative from eah countries had to perform the process of making food and then service it at their booth. The Chef, especially, had to attach the importance to the decoration dish style, the culinary art and then display it in the best way to make sure that it can show the authenticity and traditions to attract more food fans come to their booth.
Though there are many Saigon Food festivals are held each year but I guess this one is the most-wanted and crowed Saigon Food Fes. Partly because it brings customer some new and unfamiliar cuisine. Not mentioned to the way the organisers decorates their booths which is nice, really catchy and "authentic". But what make me surrended to this festival call is just about the taste or cuisine but the meanings or the culture story behind each dish. The passion to know and learn about other nations culture maybe sometimes overwhelmed the desire to satisfy the stomach.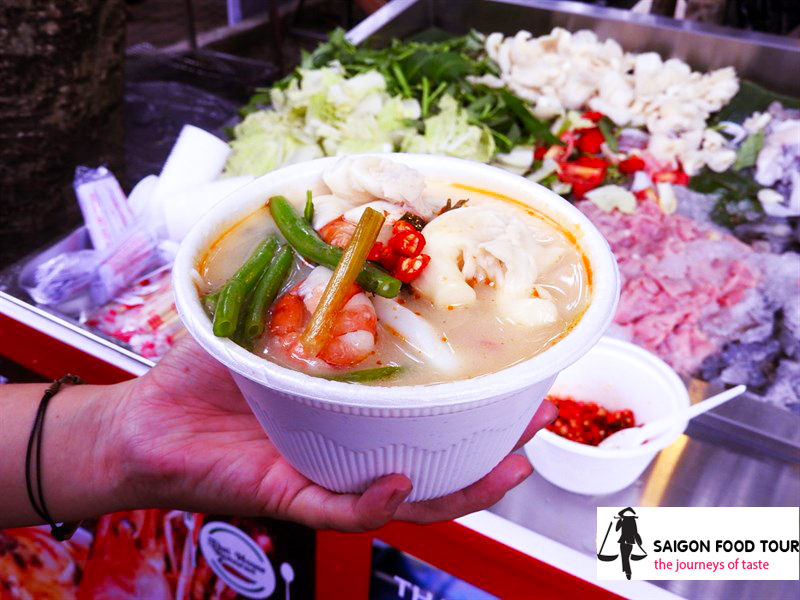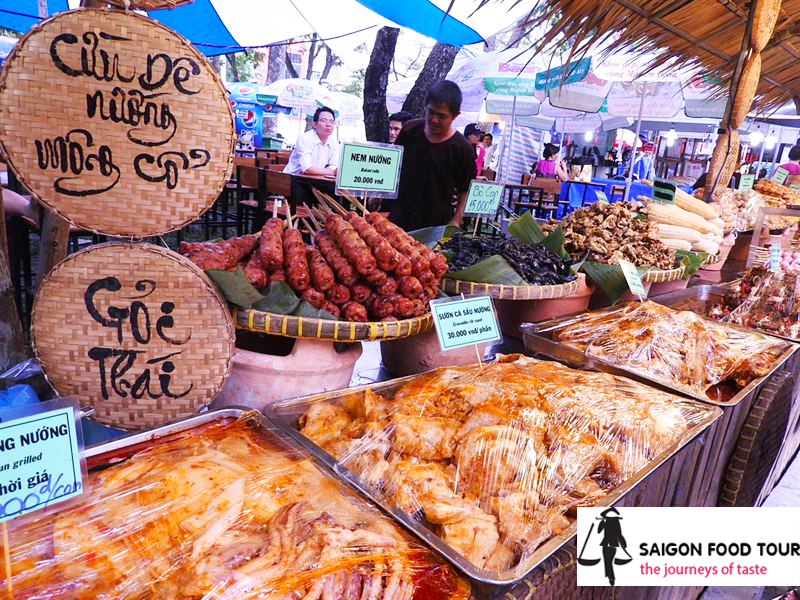 It's would be a great chance for anyone to "intentionally" get lost in Saigon Food Festival and to me – a food lovers, it must be a Wonderland. It's not just about a opportunity to taste the food, to know others cuisine; but it also about finding your new friends who have the same love and same passions to you, who are Saigon Food lovers too.
There are many Saigon Food Festival ahead. In Saigon, you never loose the occasion to enjoy the food. It maybe taste of the world, taste of Asia, taste of Vietnam or just taste of Saigon. Here, you can know what is a real Saigon Food, but also here, you can find the cuisine from other countries like this events.
Saigon Food itself is very varied. Though, Saigon are warming welcome other food cultures came here, but it never lose it authenticity. Its real taste is hiden in small alley.
If you now in your half mind, do not know where to discover our food. Just so you know that us, Saigon Food tour, always ready to take you to everywhere in Saigon, from big food festival  to normal street food. What you should make sure is  that you are  ready to let us beside you in that journey because you are always welcome 🙂