ONE DAY OF A VIETNAMESE: WHAT DO I EAT?"
on

8 Oct, 2015
In Travel Blog
Have you ever wondered that how a day of Vietnamese is like? A fashionista may ask: "What do you wear?" A wanderlust may raise a question: "Where do you go?" But a food lover may wonder: "What do you eat?"
And here, today, I, a Saigonese and a food lover show you what a typical Vietnamese eat.
Every time I wake up in the morning, the first thing comes to my mind is that what kind of breakfast I will eat today. There are a lot of foods outside and it looks like I do not need to ponder. But that's a problem, too many food to choose. But normally, I will buy a cup of coffee, the thing I always do in the morning. It's not my breakfast but it's a must drink in the beginning of the day.
My breakfast usually will be Ốp La (Omelette), Phở (Pho) or sometimes Cháo Lòng (Pork organ congee).  And I guess these are also three typical breakfasts of Vietnamese. These three kinds of breakfast are really good for the morning.  It's light, not too much but enough to full and give you the energy to start a working day.
Ốp La is usually served with Vietnamese banh mi (baguette) and some herbs or some slices of cucumber. The chilly sauce and soya sauce always go along with Ốp La. You can put the Omelette on another dish then eat with banh mi or you can put the whole Omelette into banh mi then eat it as a kind of take-away bread. This breakfast may not keep you full for long but it will provide you some necessary nutrition for the morning.
Another breakfast I usually choose is Pho. Maybe it's reluctant to talk about Pho since it is so famous that mostly all of the tourists can describe it like a Vietnamese. I eat Pho often because it has the tasty soup, and I'm seriously a kind of soup person, because the dried dishes are not really good for healthy, I think.
Cháo lòng, well, like Phở, it's a kind of soup, but denser. It's considered as the easiest swallowing food on earth. But sometimes I do not really prefer Cháo Lòng since if you want to have the best taste of it, you have to eat when it still hot that's why I take it too long for "enjoy" Cháo Lòng.
About the lunch, normally a Vietnamese will come home to eat lunch with their family. And you know, our country is famous for exporting rice, so rice must be the main staple food in every meal. We will cook rice, with some other dishes. A main course is usually made from meat & fish. It may be cooked with sauce or fried, sometimes grilled, stewed or steamed. A side dish is much simpler. It may just boiled or fresh vegetables such as boiled bind weed or fried water spinach with garlic….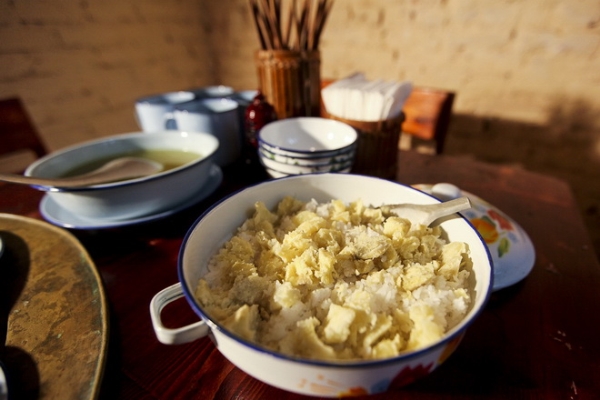 And a Vietnamese meal will be incompleted without soup (canh). We often use vegetable or root vegetable…The soup is supposed to be light and usually is used after the main and side dishes.
Especially, in Vietnamese lunch or dinner, we always have sauce fish, that's the must-have sauce for the meal.
That's a typical lunch of Vietnamese, even we are at workplace and unable to come home, we usually bring with us a box of rice for lunch.
How about the dinner? Actually our dinner is somehow similar to the lunch. Because lunch and dinner is known as the main meal of a day. But in the middle of afternoon, I have a habit of eating some snacks. I do not know if other Vietnamese are the same or not, but that is a part of my day. Even sometimes, after the dinner, I also eat some dessert like cake, ice cream or sweet soup, etc…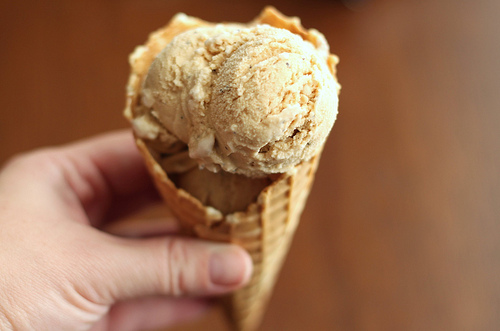 So that's is my typical day. I eat a lot and I love eating. So how about you? How's your day with food?